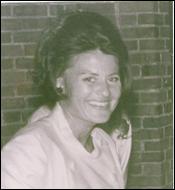 Eulogy - Delivered September 27, 2019
by son Kirkwood A. LeCompte
at Galilee Episcopal Church in Virginia Beach, VA
In 1977 mom and I embarked on a 6-week adventure across the USA. For weeks she had planned the details of our route through national parks, big cities, mountain passes, deserts, and coastal highways. Along the way we met Bighorn Sheep crossing a road, geysers erupting in Yellowstone Park, and Tina Turner gyrating across the stage in Las Vegas. It was the adventure of a lifetime! We climbed the Tetons, descended the Grand Canyon, and listened to old-fashioned Jazz in downtown New Orleans. It was truly epic for a 13-year old boy and his 45-year old mom, and a life-changing gift for me.
I learned that Mom was all about adventure. She had a passion to engage people and places, to travel the world, to ski every slope, to sail the seas, and to see the beauty in nature. She sparked joy in others, often through her mischievous sense of humor and desire to live life to the fullest. Mom was all about the present and including each of us in the moment.
I remember my first Thanksgiving away from mom. I invited her to come to New York City. She offered to bring the turkey. I noted that turkeys were available in New York, but she was already moving forward with a plan. Turns out a turkey fits perfectly in a ski boot bag. At the airport, the carry-on made its way through the X-ray machine. Concerned agents glanced at mom. They ran the bag through again. They called over other agents who pointed at the turkey skeleton on the screen during the third pass. Finally, they cautiously explained to mom, that she could board with the turkey, but the 14" carving knife plunged into its half-cooked breast would have to be confiscated. I can only wonder what would have happened if she'd tried that in recent years.
Adventure and imagination go hand in hand, and Jane's imagination soared. When I was young, she would effortlessly animate every stuffed animal in my room and give each one a unique voice as part of an elaborate, improvised, and interactive bedtime story. In the morning, when I awoke, the stuffed animals would all be perched in the most unlikely places in the room, no where near where they had been when I fell asleep. I was convinced they had come to life during the night as part of some grand adventure that only they knew about. And of course, they remained frozen in place until mom returned to give them life again the next night.
There's no doubt that mom shared her adventurous, imaginative spirit with her sisters Anne and Gerry. My grandmother always referred to the three of them as her three angels, and indeed a joyous, creative, free spirit binds them together and to all of us. We are so blessed to have Anne with us here today, and when I look into Anne's eyes, and see her smile, and hear her laugh, I see and hear Jane and Gerry too. Anne, Mom so cherished your frequent calls these last few years, which always lifted her spirits.
Mom, Anne and Gerry grew up during the depression, and while they have many fond memories of summer vacations along the shores of the Potomac with their cousins, they also recall the financial struggles that forced their dad to travel far and wide for employment. And then they lost their father in 1945. He was only 42. The girls were 11, 13, and 16 years old. I can't imagine their loss, but I clearly see their strength. Despite tough circumstances, each of them emerged as vibrant forces socially, artistically and intellectually. And we are all blessed as a result.
Mom faced another challenge in mid-life when her marriage ended, and uncertainty began to overwhelm her. How would her life change? How would she make money? How would she run a household alone? In the midst of this she had an unmistakable, life-changing vision of Jesus. She frequently told us how vivid the encounter was, how deeply it comforted her, and I saw for myself how her spirit gained the energy to move forward. Soon afterward she earned her real estate license, miraculously passing the math section of the required exam – a feat she readily attributed more to prayer than study. And she emerged a far more confident woman, capable and fearless, with a renewed sense of purpose that was deeply rooted in her faith in God. A faith that never wavered.
In the first few days after mom passed, I couldn't shake the feeling that she was skiing in Aspen. She was an athlete again, gracefully carving the mountain in perfect powder conditions with a free lift ticket. She always wanted a free ticket to ski Aspen, but they kept upping the age requirement – when she was 60, they said "oh, it's 65 now" and at 65 they said 70, and so she never got that free ride, until now. And I know she's in heaven among the moguls of the black diamond slopes wearing a huge smile of satisfaction.
Sports were indeed one of mom's passions. She earned trophies on the tennis court, respect on the ski slopes, and kudos from fellow sailors. She could navigate class 4 rapids, and hike the longest trails. She was an active role model who instilled in Jebbie and I, a competitive, athletic spirit that has never left us.
She was also an artist, a talent that my sister inherited, and that I can only admire. I am so glad she discovered her ability later in life. Her oil paintings wonderfully capture her love of western landscapes, flora and fauna. We have a couple of examples on display in Tucker Hall this afternoon. Her paintings alone will insure she is remembered for many years.
One of the greatest gifts Mom and Dad gave us was Virginia Beach. Mom made it her home for 65 years. Is there any better place to grow up? Wave riding at the beach, sailing the Chesapeake, swimming, tennis, and golf at the club, fireworks on the practice range, biking in Seashore State Park, crabbing at the Narrows, kite-flying along the dunes, dancing at the Cavalier, skee-ball at the Boardwalk, putt putt at Jungle Golf, trampolines in the backyard, water skiing in Broad Bay, horseback riding off Great Neck Road, seafood at the Duck Inn, fishing by the Bay Bridge Tunnel, movies at the Beach Theater, ice cream at High's, and crab cakes at Nick's, and so much more. Thank You, Thank You, Thank You!
Another great gift she gave us was her homemade rum cake. I mention this because we have some for you to take home today. She loved sharing it, and we share it with you today, along with the recipe so that it will continue to be shared, and in a small way keep mom's memory alive. We hope you enjoy it!
I want to end by saying, Mom, you are all heart. You move forward with a contagious, effervescent, child-like passion that embraces everyone near you. You envelop us and inspire us with your love of adventure, travel, and nature. Your vivid imagination and mischievous sense of fun runs deep in the souls of your children, grandchildren, extended family and friends. We love you and feel your love every day. You are with us, now and forever.